Fall is officially here, and we are falling for these exciting annual events, workshops, and seasonal treats! Enjoy a myriad of offerings throughout the property all season long where we have a little something for everyone.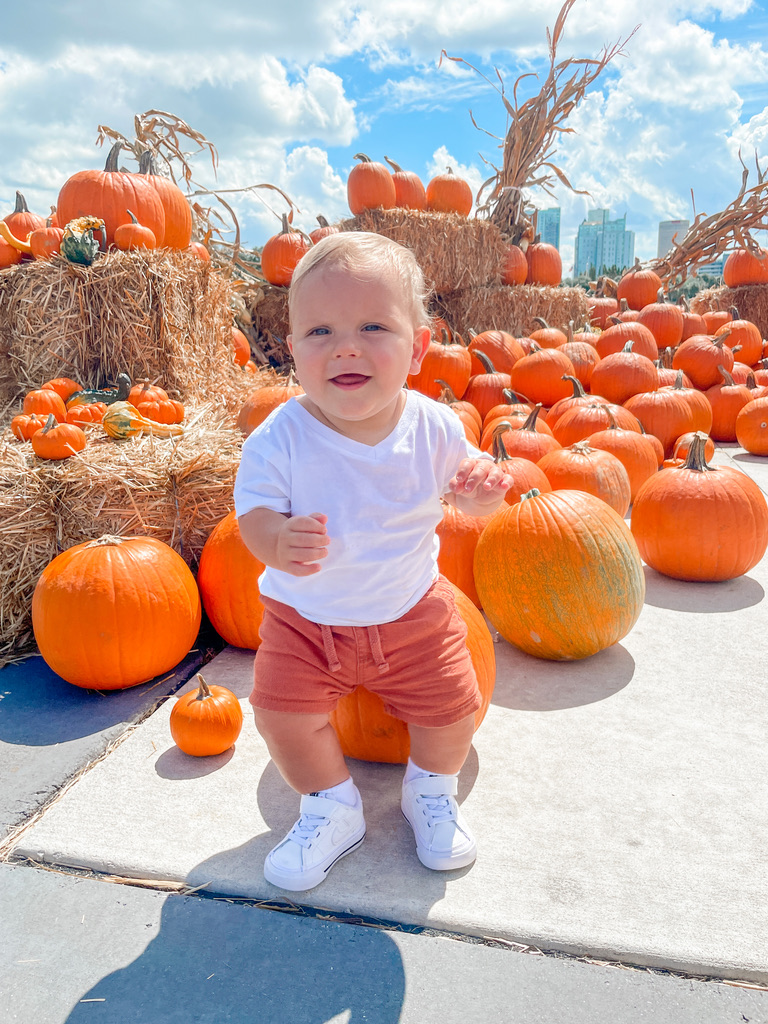 Celebrate the first official weekend of fall with Steelbach's weekly brunch specials! This weekend's specials feature spiced peach and brown butter Chuck's Cakes topped with praline whipped cream. You can also indulge in the Blackened Hanger Steak and Roasted Butternut Squash Hash finished with andouille gravy and a sunny side up egg.
After brunch, head over to Buddy Brew Coffee for their Pumpkin Spice Latte or Bake'n Babes for their September Works consisting of signature vanilla soft serve piled high and topped with a vanilla cupcake, football noise maker, mini football, and a light up cheerleading pom pom.
Get ready for "sweater weather" with our latest fall merchandise drop at The Shop at Armature Works! This fall launch includes a selection of colors and styles with the perfect blend of comfort and aesthetics for you to choose from either online or in-store. Don't forget to add one of our candles to your home décor, perfect for getting comfy and cozy this fall.
Make sure to capture the essence of fall by snapping a photo at our Armature Works Frame decorated for the season located in the Courtyard!
There's also a wide range of workshops and annual events for the whole city to enjoy this fall season! Make sure to mark your calendars with these upcoming events:
Sip, socialize and get creative while building your own fall flower arrangement with The Roaming Petal! Immerse yourself in the spirit of the season while crafting beautiful floral arrangements using charming pumpkin vases. As you sip on wine, you'll be guided step by step to create stunning arrangements that embody the warmth and beauty of autumn. This workshop is held in the Show and Tell room on September 28th from 6 – 8pm.
Our spectacular riverfront pumpkin patch and festive autumn treats will give you all the fall feels, even if the 80-degree Florida weather doesn't. One of our largest events of the year, The Heights District's 6th Annual Fall Fest now spans two weekends in October (the 14th, 15th and the 21st, 22nd) featuring live music performances and activities for the whole family. Keep your plaid skirts and pumpkin spice lattes on deck! The event is from 12 – 5pm and will be held on our Pier, South Lawn and West Lawn. There will be bounce houses, face painting, live entertainment, pumpkin patch, holiday-inspired treats, petting zoo and more!
Pied Piper's 3rd Annual Haunted Carnival will haunt Armature Works this October for four days (the 26th, 27th, 28th and 29th) featuring Diplo, Quavo, Above & Beyond, Wuki and more! The Haunted Carnival also features classic carnival rides, nostalgic treats and these live performances from some of the world's biggest DJ's and top artists. If you are interested in purchasing tickets, please click here.
Armature Works' unique annual beer experience, Blues & Brews showcases the best liquids from local and national breweries while rock and blues music from the region's best bands resounds through The Heights District. This starlit festival features tasting packages for you to sample all sorts of brews in the beer garden while jamming to a bluesy music lineup. The event is on November 18th from 5 – 10pm with more details coming soon!
And remember, no matter what time of day you come, there will always be good food and good drinks at any one of our full-service restaurants or HPM food vendors. Don't forget to sign up for our newsletter + follow us on social to stay in the know on everything we have coming up.