We've all heard "food is art", but the two newest additions to Armature Works' Heights Public Market are taking that concept to a whole new level.  Zukku Sushi and Astro Ice Cream Co. will actually allow visitors to craft their own made-to-order masterpieces, comprised solely of fresh and seasonal ingredients.
Zukku has tapped former Ocean Prime sushi chef Gia Tran to create the masterful menu which allows you to build your own sushi burrito or poke bowl. After deciding on a vessel, choose a base (Nori, sushi rice, brown rice, salad) and then stack it with plethora of protein, topping and sauce options ranging from spicy tuna, fresh salmon and tempura shrimp to cheetos hot chips, wakame and sriracha aioli.
"Zukku translates into a canvas or cloth that artists use to create amazing works of art, and at Zukku Sushi, you create your own edible works of art," says Partner Ferdian Jap. "It will be fun for visitors of the Heights Public Market to always have the opportunity try something new at one place — there are endless ways to craft your sushi masterpiece!"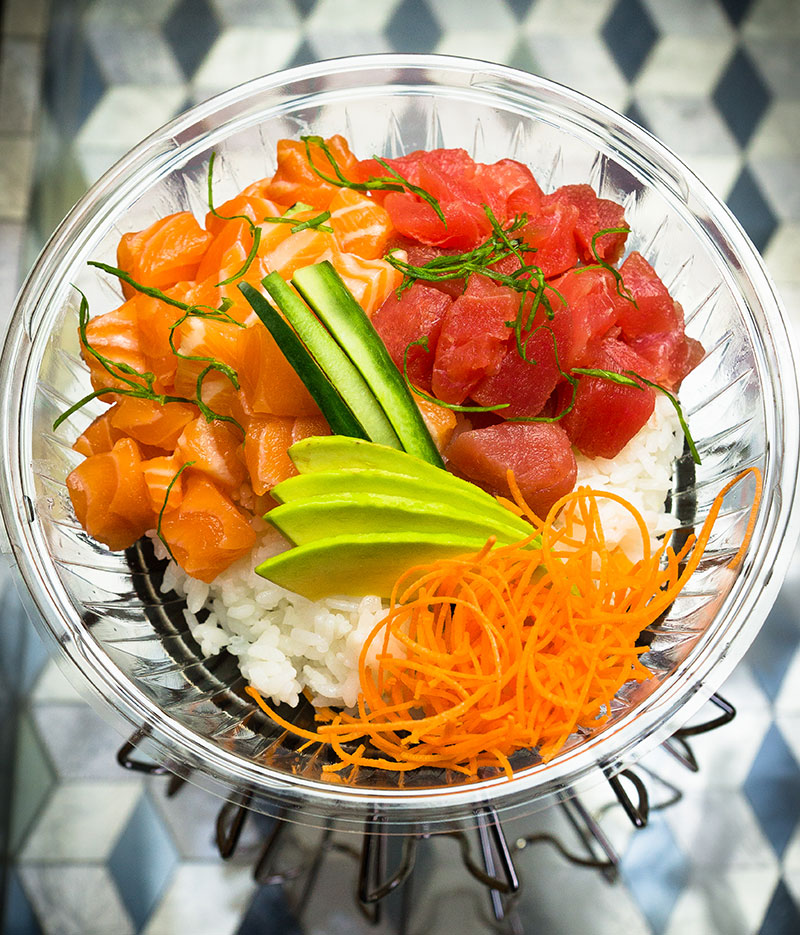 And for those days your Rembrandt skills feel lacking, a hefty lineup of more than 20 signature rolls, burritos and bowls will also be available. Selections include everything from the Volcanic Eruption (Ahi tuna + cream cheese + cucumbers + avocado + eel sauce + sriracha aioli + bang bang shrimp) and Hawaiian Poke Bowl topped with pineapple, wakame, corn and wonton chips to the Hamachi Burrito stuffed with yellow tail, snow crab mix, pickled serranos, salmon skin, cilantro and wasabi mayo.
Now, onto the ice cream. One of the first of its kind in Tampa, Astro Ice Cream Co.'s small batch, custom confections will be 100% fresh and made to order; in fact, the location won't even have a single freezer on site. The secret? Each creation will be flash-frozen in liquid nitrogen, which ensures the fat and sugar molecules don't clump together – resulting in a smoother and creamier ice cream.
Made in 6 to 8oz batches, the frozen creations will only utilize fresh and seasonal ingredients with zero artificial flavoring. Here's how the process works:
1. Choose a vessel: bowl, waffle cone or sweet bun (roughly the size of a hamburger bun)
2. Choose a base: ice cream, yogurt or low fat; there will also be lactose free options available
3. Choose a flavor: classic options range from chocolate, strawberry, banana and vanilla to peanut butter, nutella and dulce de leche as well as rotating seasonal flavors like pumpkin, mango, and apple pie
4. After 1-3 are decided upon, the ingredients undergo a flash-freeze from the liquid nitrogen to create the ice cream (process takes about 10 seconds)
5. Choose your toppings: these range from the fresh fruit variety (mango, cherry, banana) to "crunch" and "candy" options like chocolate chip cookies, gummy bears, Cinnamon Toast Crunch cereal and Kit Kat bars.
"We wanted the toppings to be very artistic, every one of these creations will be very Instagram worthy," adds Jap.
Signature options will also be available including the Classic Astro Ice Cream sandwich: vanilla ice cream sandwiched between two sweet buns, and pressed in a panini maker. The result: a crunchy, warm/cold, sweet slice of heaven.
Are you drooling yet?